What does abstraction mean?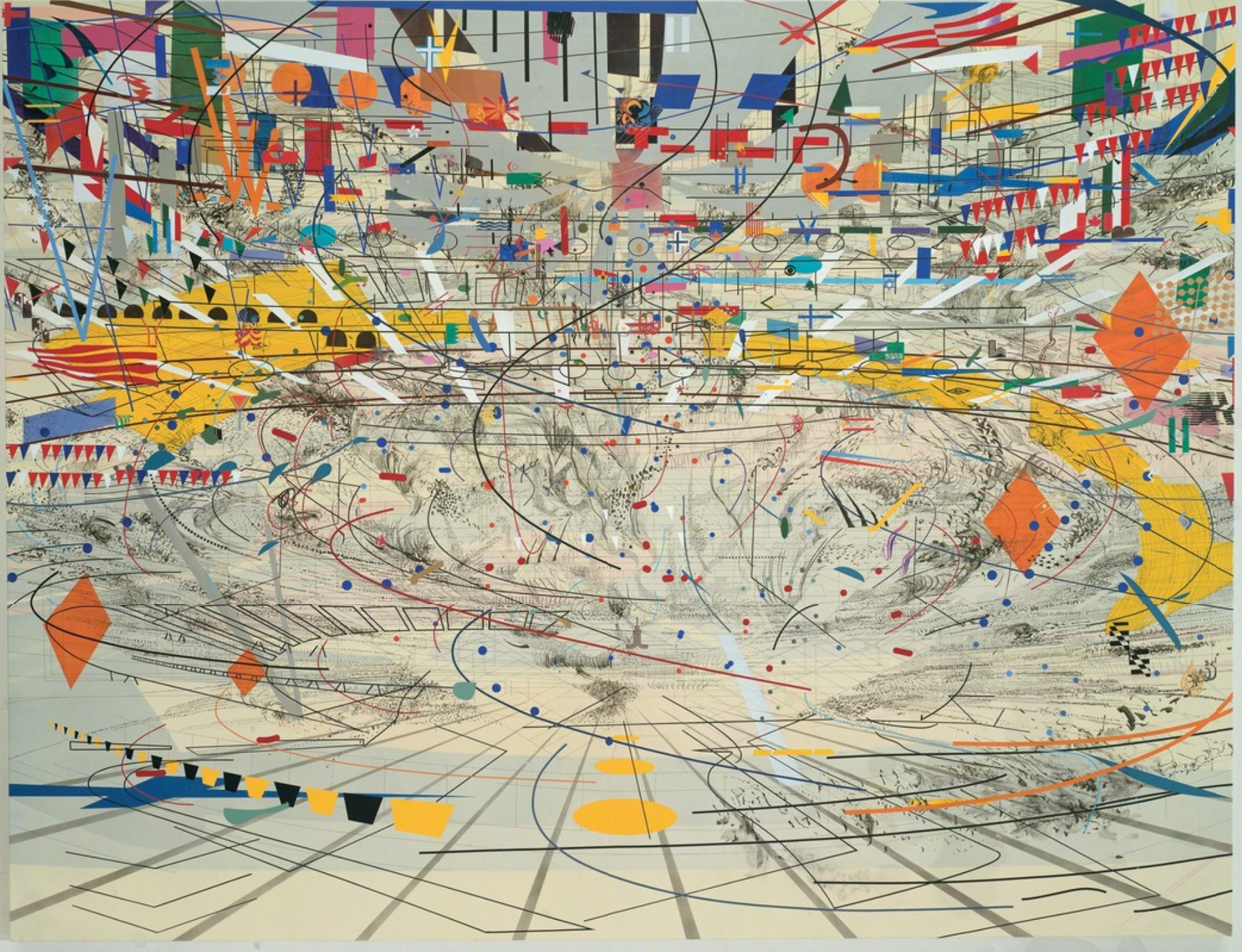 She said: "I think of my

abstract mark-making

as a type of sign lexicon, signifier, or language for characters that

hold identity and have social agency

. The characters in my maps plotted, journeyed, evolved, and built civilizations. I charted, analyzed, and mapped their experience and development: their cities, their suburbs, their conflicts, and their wars. The paintings occurred in an intangible no-place: a blank terrain, an abstracted map space. As I continued to work I needed a context for the marks, the characters. By combining many types of architectural plans and drawings I tried to create a metaphoric, tectonic view of structural history. I wanted to bring my drawing into

time and place.

" 
 <Laurie Firstenberg, "Painting Platform in NY", Flash Art Vol. XXXV No. 227, November | December 2002, p. 70>
Julie Mehretu's works engage us in a dynamic visual articulation of contemporary experience, a depiction of social behavior and the psychogeography of space.
<https://www.mariangoodman.com/artists/51-julie-mehretu/>
"What does it mean to paint a landscape and be an artist in this political moment?"
<https://art21.org/watch/extended-play/julie-mehretu-politicized-landscapes-short/>
Julie Mehretu makes large-scale, gestural paintings that are built up through her layering and compression of time, space and place, and the collapse of art historical references. It reflects her reflection on the integration of urban society with history. In her paintings, the grid of cities becomes blurred and transformed into abstract gesture symbols and colors. Most of these gestures are rough and intense. Here, time and space seem to merge into one. I am curious about the hidden grid in her picture. Does the grid have other extended meanings What does the grid mean in contemporary society?
Related movements: Italian Futurists , the geometric abstraction of Malevich,  Abstract Expressionist ,  the divergent markmaking of Albrecht Dürer , Eastern calligraphy, and graffiti.<https://www.artsy.net/artist/julie-mehretu>
p

osted on  october 7, 2020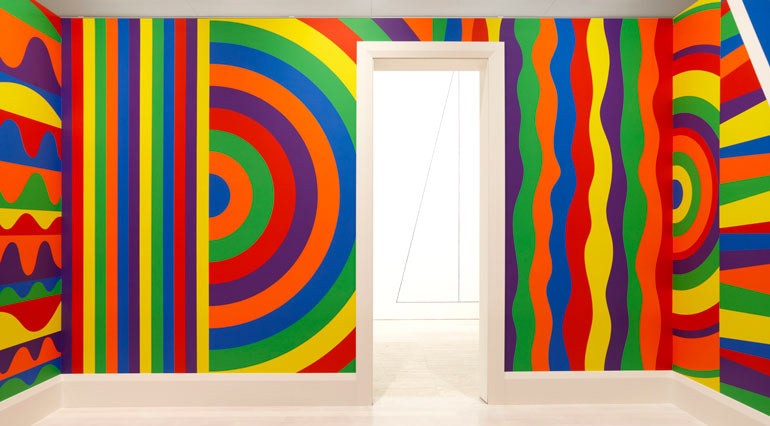 (September 9, 1928 – April 8, 2007) 
American artist / Conceptual art and Minimalism .
In his Paragraphs on Conceptual Art ,

LeWitt asserted that Conceptual art was neither mathematical nor intellectual but intuitive, given that the complexity inherent to transforming an idea into a work of art was fraught with contingencies. <
http://radicalart.info/concept/LeWitt/paragraphs.html
>
In conceptual art, thought or concept is the most important aspect of a work. His visual arts vocabulary includes lines, basic colors (red, yellow, blue, black) and simplified shapes (quadrilateral, sphere, triangle). He applied these formulas based on his own invention formulas, which hinted at mathematical equations and architectural specifications, but were neither predictable nor necessarily logical. It is worth thinking about: how and whether to let a specific thought that has been formed to execute.
What's interesting is that although he simplified the visual language, he still uses the most traditional wooden boards in the choice of materials. To prove its vulnerability to decay, destruction or obsolescence. This consideration of materials caused me to think.
Related Artists: 
Agnes Martin ⬇️
, ,Robert Rauschenberg, Eva Hesse
Related Movements & Topics:Postmodernism,Conceptual Art,Post-Minimalism,Installation Art
p

osted on  october 2, 2020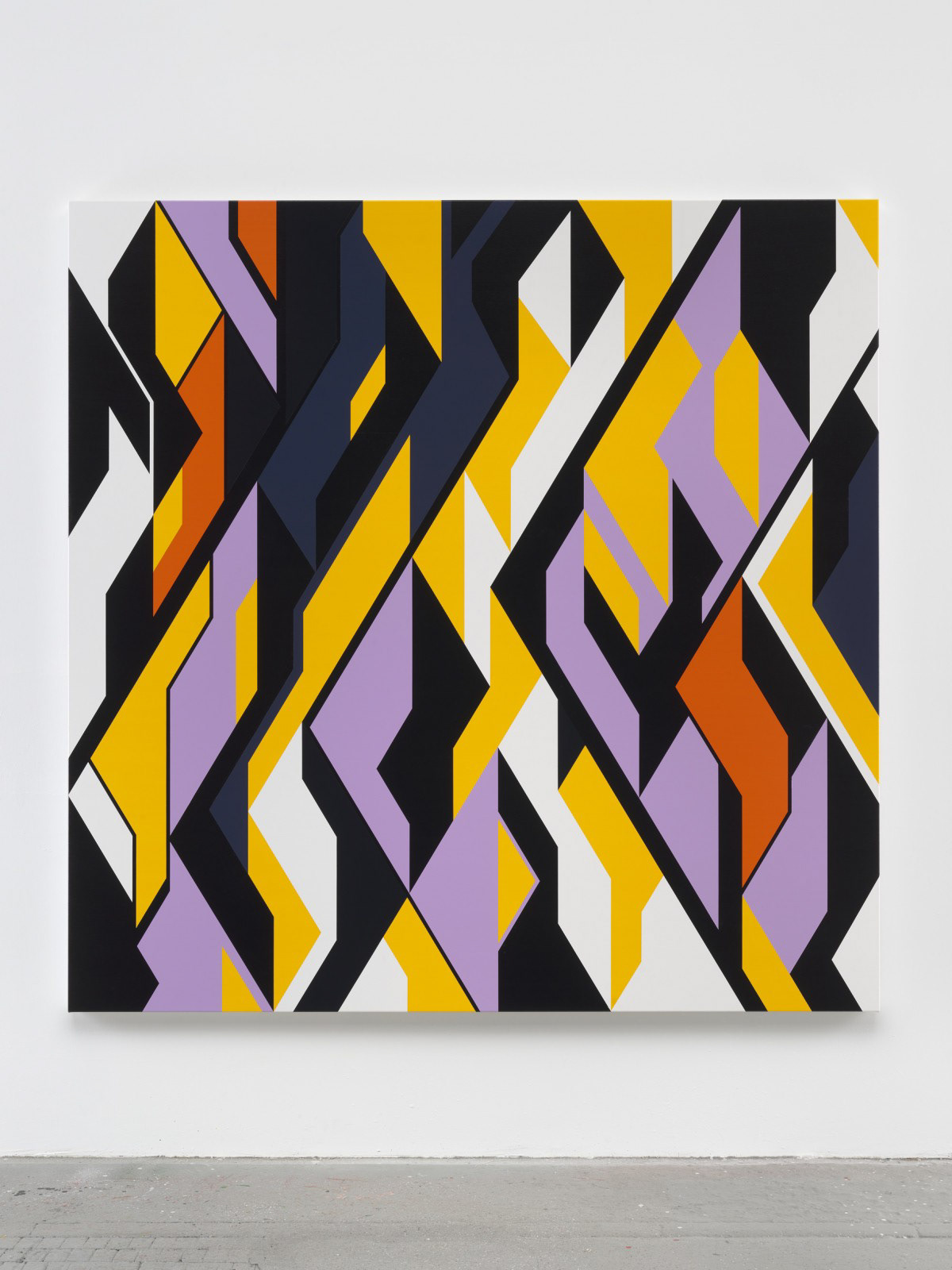 background:
s
he was Influenced by

Pop, Minimalism, Conceptual Art, and architecture,

her paintings feature

hard-edge geometric abstraction

that explores the physicality and psychology of cities.<
http://www.artnet.com/artists/sarah-morris/
>
Since the mid-1990s, Sarah Morris has been making

abstract paintings

and

films

to investigate what she describes as "urban, social and bureaucratic typologie

s.

" In tandem with her two-dimensional works,
She describes the dual processes as "

two sides of the same coin

",creating the paintings and films (which reference one another visually and thematically) simultaneously. 

 
<
https://whitecube.com/artists/artist/sarah_morris
>
There is a sense of architectural design beauty in her works. Her works are full of rigorous, colorful and geometric figures. At the same time, we can also feel her exploration of urban architecture and social psychology. This perspective based on culture, history, and politics continues to influence each other in her paintings and movies.
In my view, we should always interpret a work with an open mind. Artists do not exist in a vacuum. To understand an artist, I also need to fully understand the background of her time. On the other hand, continued accumulation will allow me to have a better interpretation of my own art. 
p

osted on  September 30, 2020 
​​​​​​​
April 24, 1931 - London, UK​​​​​​​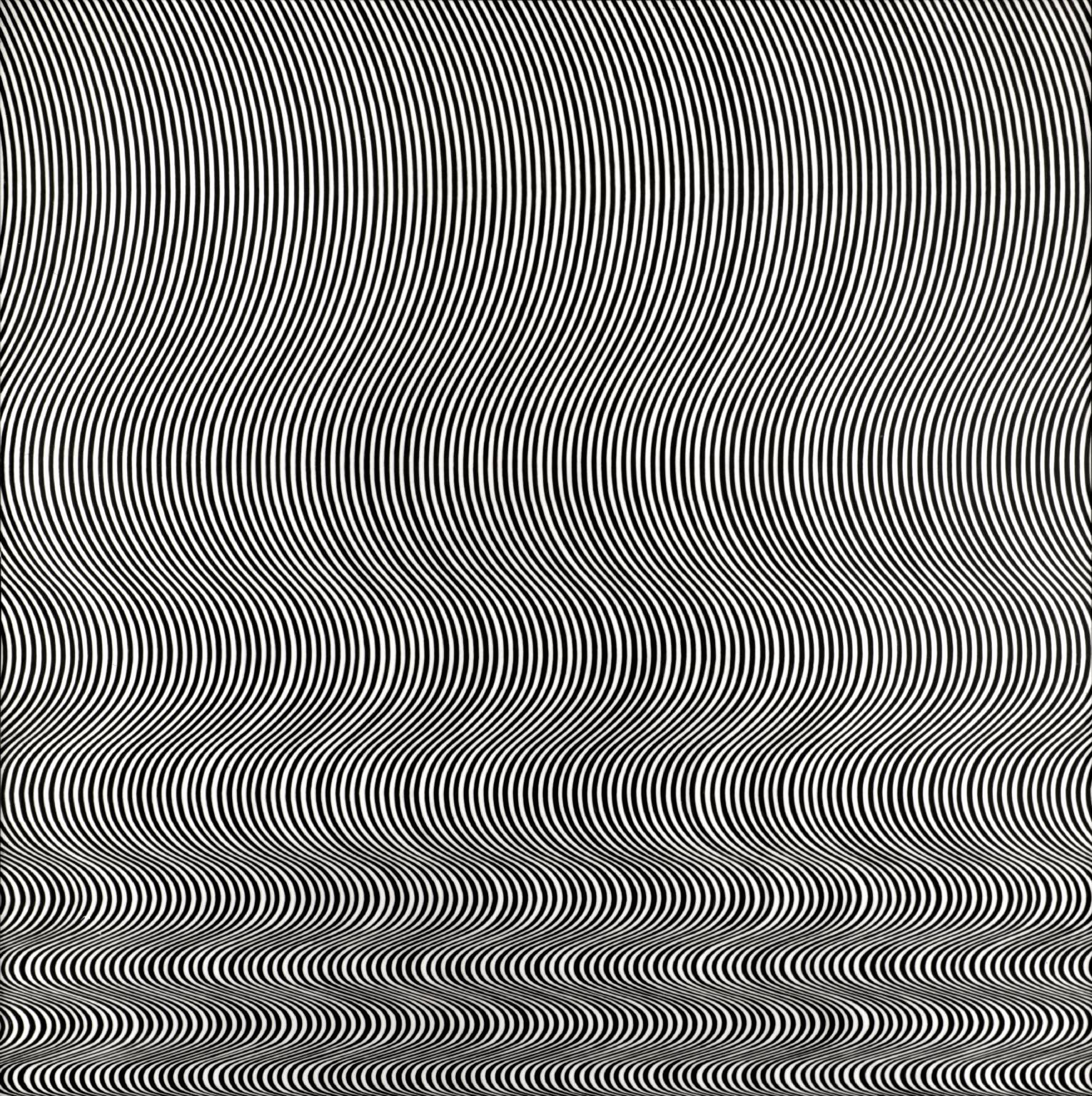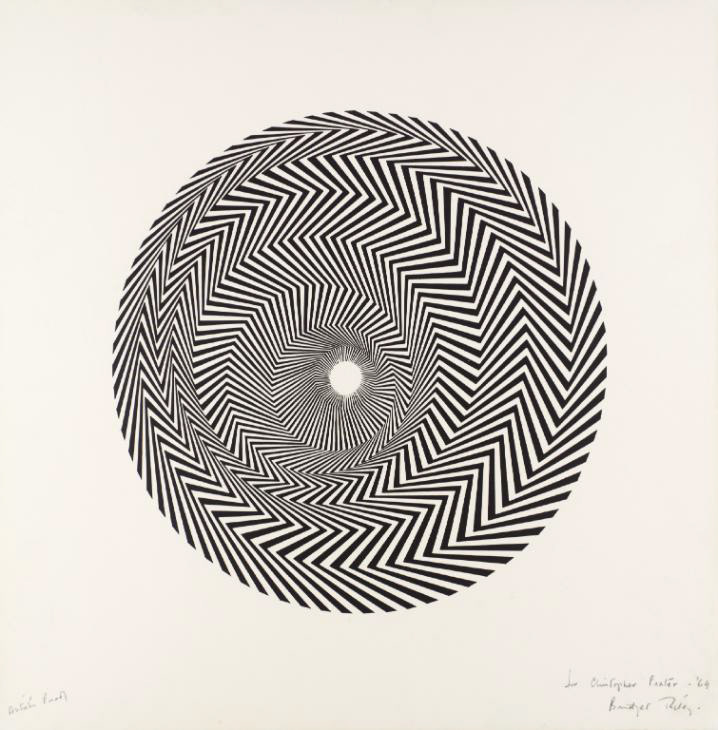 In

fall,

she created repeating vertical curves to create fields with varying optical frequencies. Although the swing in the upper part is soft, the curve quickly compresses towards the bottom of the painting. This use of illusion makes the two-dimensional surface of the painting look like it is moving, or even flickering, including the artist begging the audience to reflect on how physical feelings affect people. For decades, she has also studied a lot of the physical and psychological responses of squares, ovals, stripes, and curves in various configurations and colors to the eyes.
Sometimes the simplest things seem complicated
. She is an excellent example.
Based on her own optical experience, and not colour theories, mathematics or science, experiments.
h

er objectives have always been to interrogate what and how we see and to provoke both uncertainty and clarity with her paintings.<
https://www.theartstory.org/artist/riley-bridget/
>
In addition, in the vibrating space formed by black and white contrast, it is difficult for us to determine whether black is above white or white above black. This is exactly what the artist emphasized on her own subjectivity in the decision process.
Finally, I will continue to think about and study the subjectivity of artists and how to apply them in my paintings about emotions and circle gestures.
related artists: i

mpact by

Jackson Pollock

(1958)  <Kudielka, R., "Chronology" in Bridget Riley: Paintings and Related Work, London: National Gallery Company Limited, 2010, pp. 67–72. ISBN 978 1 85709 497 8.>
p

osted on  September 28, 2020 
posted before September ⬇️
In one of her books,
she once wrote: painting can be regarded as a trace of an activity, that it evokes subjectivity—the subjectivity of painting—and sug gests agency.
besides,
  subjectivity means that painting has its "own discourse' and its "own narrative:" She mentioned. 
I am curious about what she proposed 

painting has a subjectivity of its own, which is a way of treating it like a quasi-subject. This view that painting has a life of its own and can therefore 'think" or "speak".
This is the same as what I mentioned in the trace part when an artwork is completed, it exists independently. It cannot be said that it completely got rid of its creator, but it has its own voice and destiny.
 So, is the artwork a trace of the existence of the artist, or is the artist just the carrier of the existence of the artwork?
p

osted on  August 27, 2020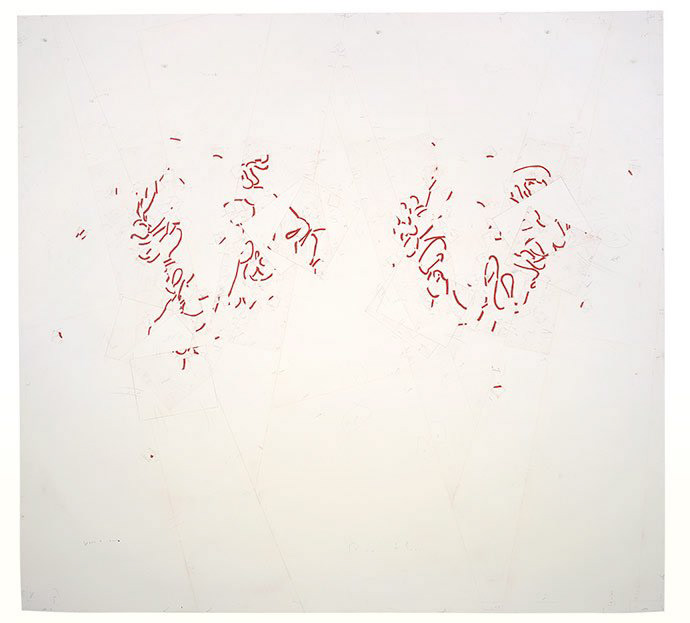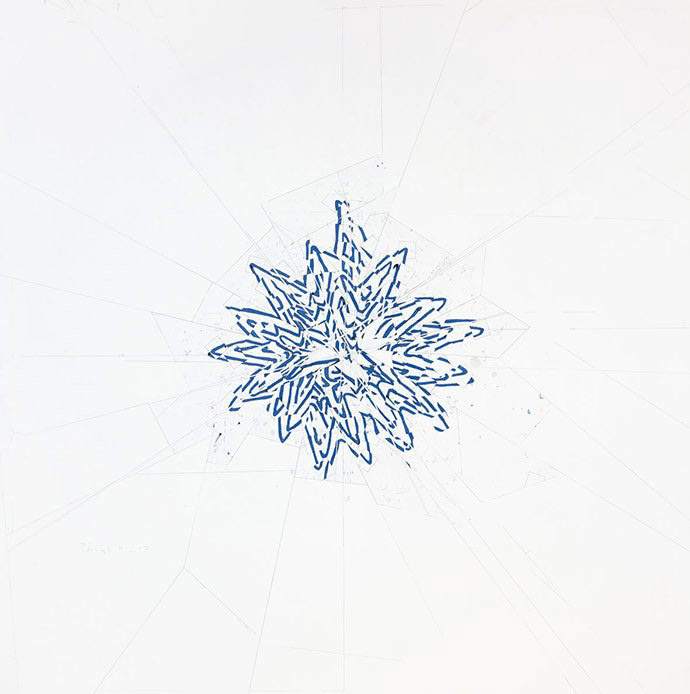 Distant Double, 2.32 Y 1989
Ink on paper
66 x 56.5 cm
Courtesy Hauser and Wirth London
The artist has said: 'If you were to ask me what I do, I would say that I draw – this is the primary activity.

'
《What is drawing for Roni Horn》

【Herkenhoff, P 2003, 'What is drawing for Roni Horn', in D Frankel(ed.), Roni Horn–Dessins/Drawings, Centre Pompidou, Paris, pp. 27-34.】
Annotation:
This reading is telling why Roni Horn paints and what she paints from eleven aspects. She believes that the concept of painting does not need to be expanded; it is broad and inclusive enough. In the understanding of Horn,
painting, as an act of dismemberment, is a proximity combination of different stages. Lines are not lines, but edges.
At the same time, painting indicates photography for her. The relationship between these two is symbiotic as her photography and video; the essence is still painting. It affects her perception of space, geography and identity. Correspondingly, Horn extends the concept to economic principles, which is a confrontational effort, from this point of view.
Horn seems to have a system of her own. She thinks painting is grammatical, but not very grammatical
(p32,2003). In her work, she started with the language, through self-participation, and finally reached intuition. Lastly, it is also the most sympathetic part to me.
She said: "Philosophy as an artifice of language: a commingling of language and consciousness." (
p34,2003)Therefore, her paintings are dialectical.This made me wonder more about the connection between philosophy and painting.
p

osted on   August 24, 2020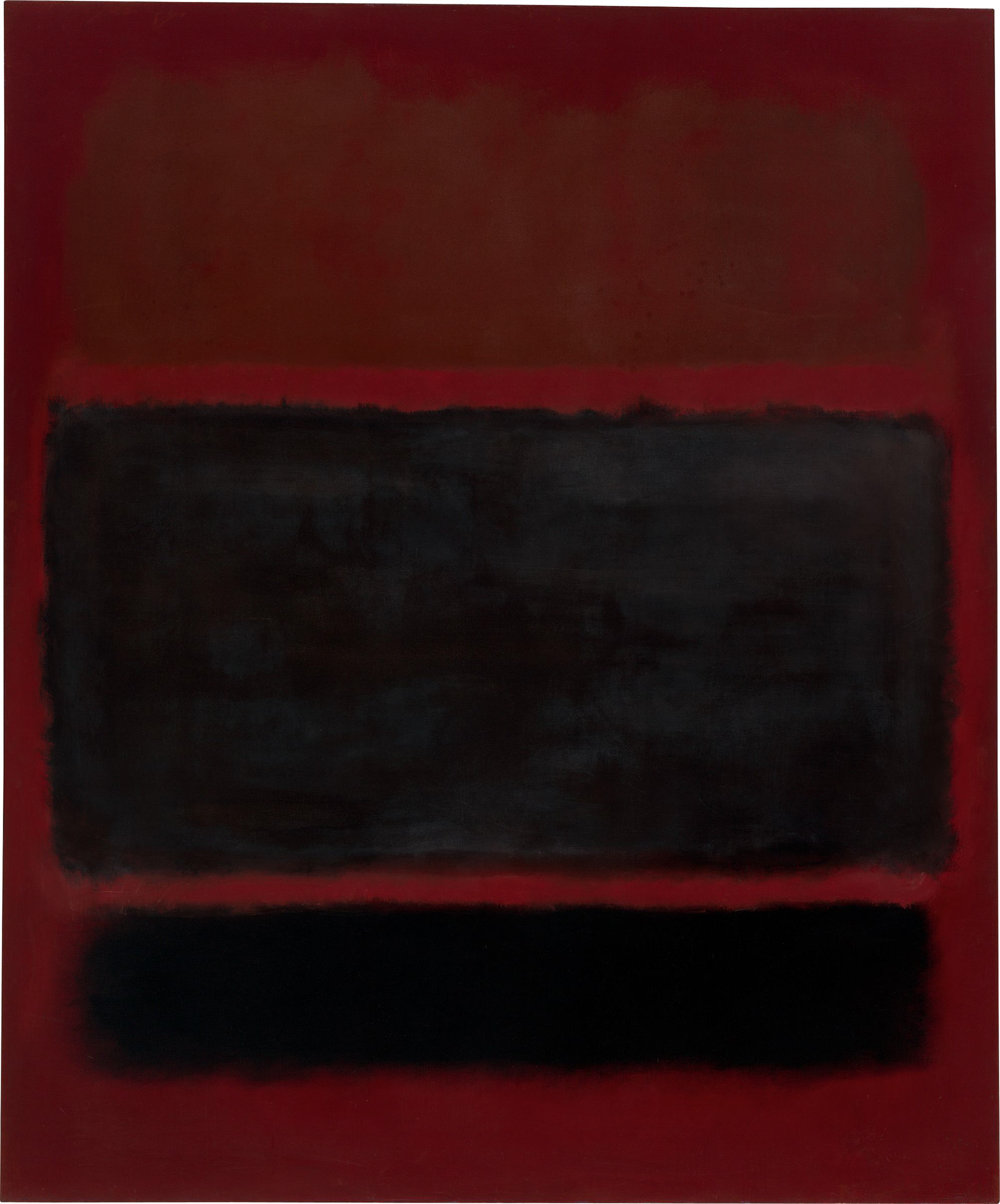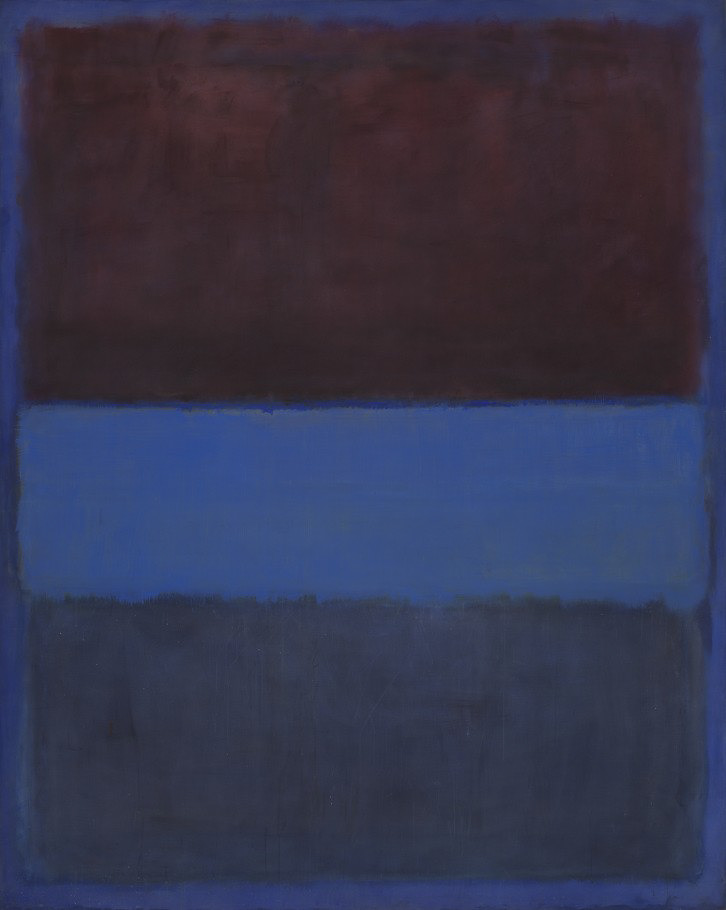 MARK ROTHKO  

American, born Russia  1903–1970
He is one of the artists I learned about abstract art in my early days. but the first abstract artist who shocked me. and it was also the reason why I was fascinated by abstract art.
He once said: "When I was a younger man,

art was a lonely thing

. No galleries, no collectors, no critics, no money. Yet, it was a golden age, for we all had nothing to lose and a vision to gain. Today it is not quite the same. It is a time of tons of verbiage, activity, consumption. Which condition is better for the world at large I shall not venture to discuss. But I do know,

that many of those who are driven to this life are desperately searching for those pockets of silence where we can root and grow. We must all hope we find them."
In my view,art is still a lonely road today. I often feel a sense of powerlessness, which is like air surrounding me. I can't see it, but I can feel it. In other words, this kind of feeling pushes and nourishes me invisibly? 
Mark Rothko sought to make paintings that would bring people to tears. "I'm interested only in expressing basic human emotions—

tragedy, ecstasy, doom

, and so on," he declared. "And the fact that a lot of people break down and cry when confronted with

my pictures shows that I can communicate those basic human emotions

….If you…are moved only by their color relationships, then you miss the point."
To some extent, each of us is a mirror of that era. I may not be qualified to comment on such a large topic, but how do I define this qualification? Who is the authority?
What I can do, I thought for a long time.
Emotion, experience? These are the most precious parts of my life. Now I try to convey them to a wider place through painting。
p

osted on  August 20, 2020 
What does it mean to be a painter today?
Untitled #5, 1998
Acrylic paint and graphite on canvas,
60 × 60 in
152.4 × 152.4 cm
Agnes Martin built her oeuvre around the search for sublime beauty and serenity, following her belief that
"art is the concrete representation of our most subtle feelings."
"My paintings are not about what is seen," she said."They are about what is known forever in the mind."​​​​​​​
"I paint with my back to the world," she declared, and what she wanted to catch in her rigorous nets was not material existence, the Earth and its myriad forms, but rather the abstract glories of being: joy, beauty, innocence;happiness itself.

This is what I want to express in painting. Pure pleasure, an immersive experience, You don't need additional explanation to watch her work. Only these light colors and quiet grids can bring you a visual relaxation and enjoyment.
(Abstract Expressionism ,Minimalism )
related artists: 
Eva Hesse, Ellen Gallagher ,
Sol LeWitt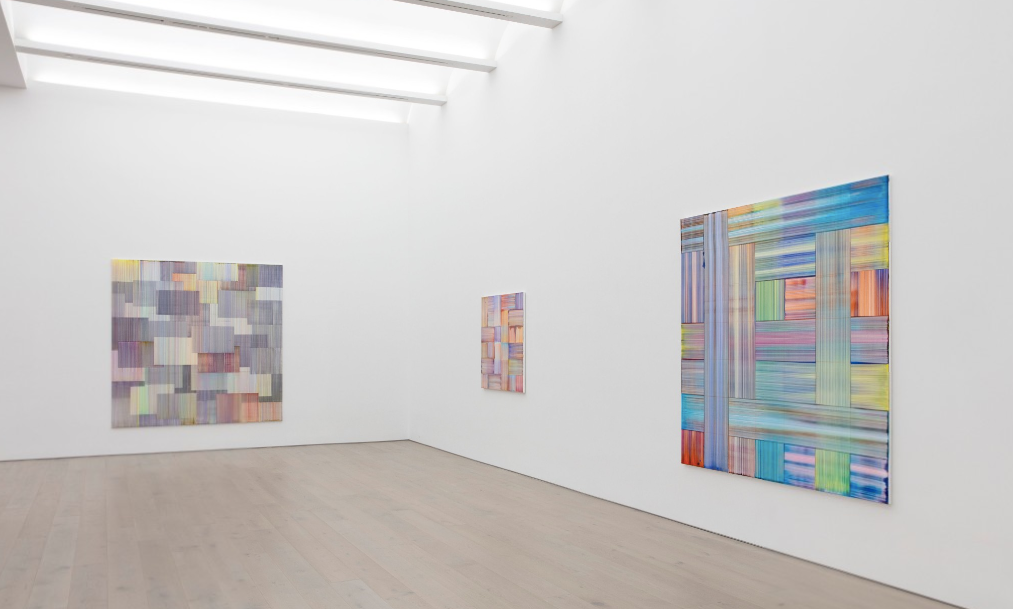 Bernard  Frize  
Born in 1954 France 
Bernard Frize's abstract painting is decisively process-oriented. These preestablished conditions and constraints usually pertain to the use of conventional tools and materials, the almost mechanical execution of seemingly simple gestures, and, at times, the simultaneous assistance of other painters.
his aesthetics portends an automatic ideal of painting.
His artwork with little intervention, let the picture automatically unfold itself and allow accidents to happen. This is the inspiration I got from his art work.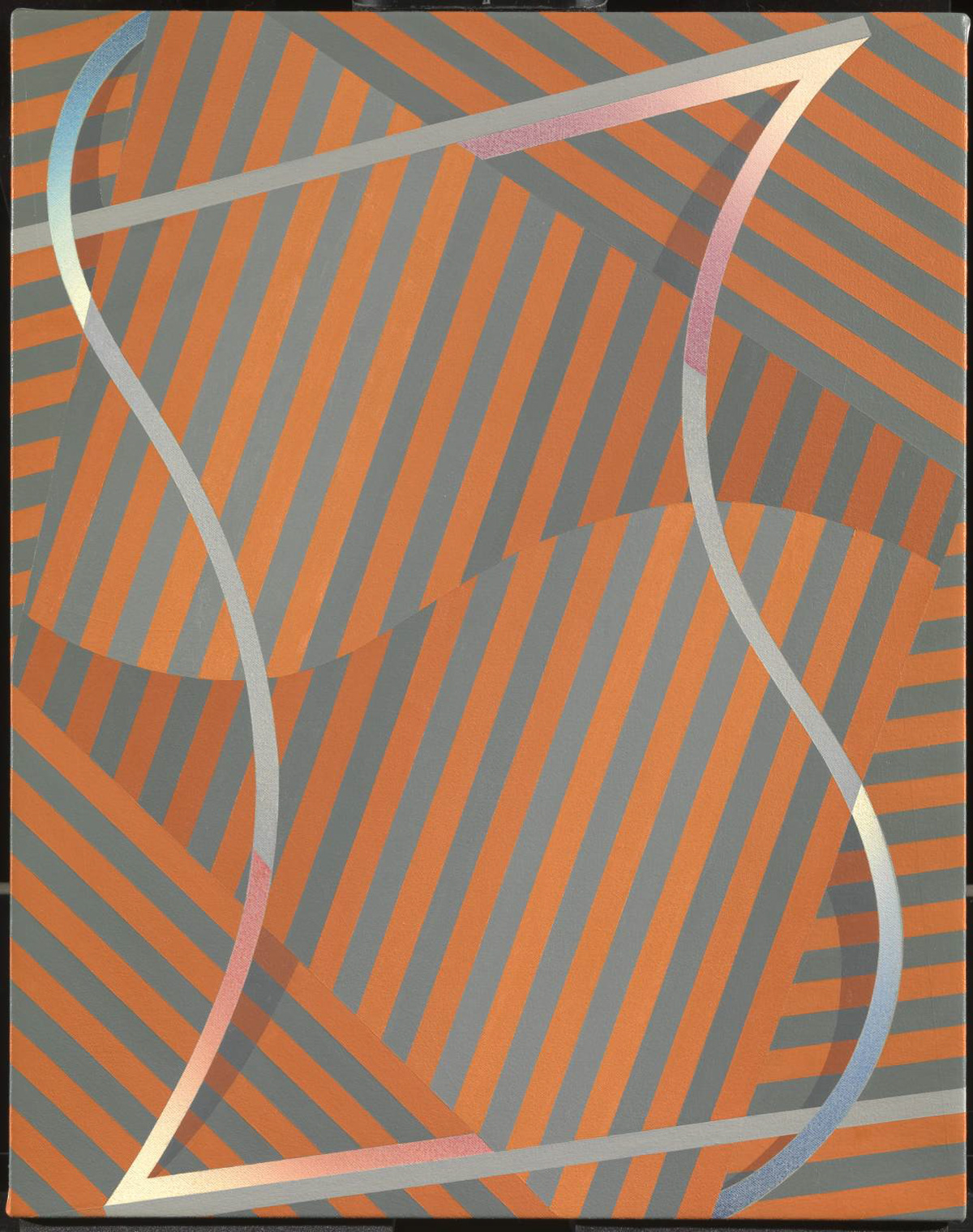 Tomma Abts
Zebe 2010
Tate©Tomma Abts 
Abts does not use any source materials and can slowly build surfaces, defining lines and shapes on overlapping layers.
Each painting is measured to exactly the same size, and its title is derived from a German name dictionary, which emphasizes the individuality of each painting and gives the canvas a deeper sense of history and narrative.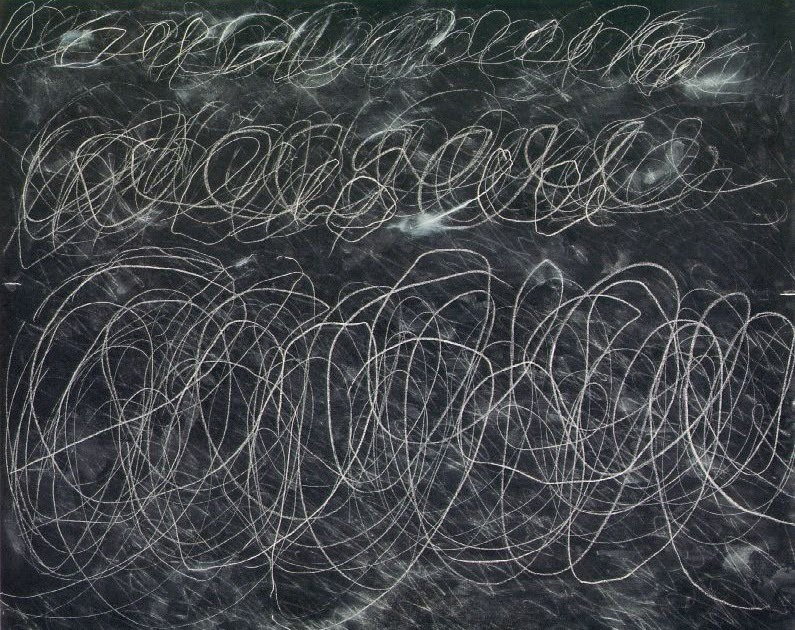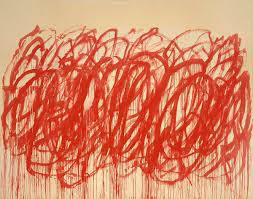 (April 25, 1928 – July 5 2011 )was an American painter, sculptor and photographer.
His paintings are predominantly large-scale, freely-scribbled, calligraphic and graffiti-like works on solid fields of mostly grey, tan, or off-white colours. His later paintings and works on paper shifted toward "romantic symbolism", and their titles can be interpreted visually through shapes and forms and words.
In his works, he establishes personal "rules" for himself, where to act and where to stop. A seemingly chaotic order defines primitive, mixed emotions. The sophisticated experience of human beings leaves a silent image of the painting.
These pictures include his works from 1953 to 2009. In the 1950s, he was influenced by tribalism and developed a gesture painting technique. Thin white lines draw the surface on a dark canvas. Then he carried out a five-year creative process with the theme of myth. Through continuous exploration and summary, a meta-script creation model was finally developed. Through the abbreviations, shadows, loops, numbers, hieroglyphs, etc. throughout the canvas. These traces are erased and repeatedly destroyed, and eventually form the script itself.
His symbolism is a refinement of feelings and spirit, in my view. It is a primitive and beautiful order, which reminds me of my own creation. I think emotion is the most real expression. The only permanent is that everything has been changing. So in my work, I also try this to capture every fleeting and unique moment. In addition, all great art is not created for greatness. Instead, in this process, you can completely immerse yourself in it and enjoy it. Through continuity, year after year, start from self and back to self. This process is the most wonderful part. I am glad that I can feel some, and there are still many unknowns worth digging. 
He said: "The painting is more fusing—fusing of ideas, fusing of feelings, fusing projected on the atmosphere."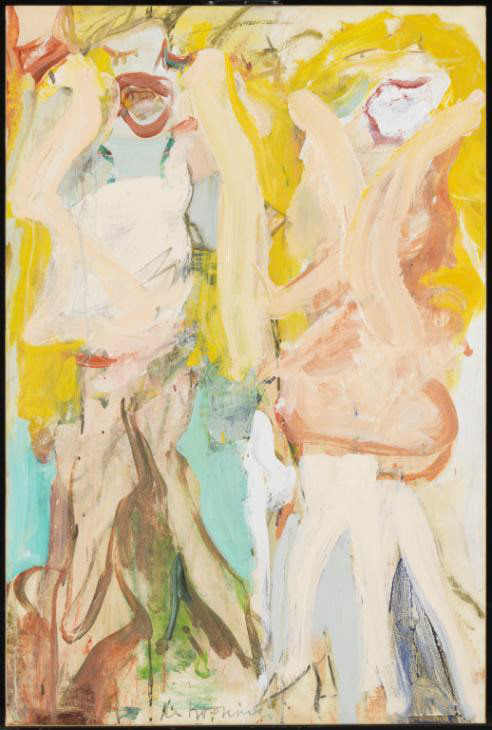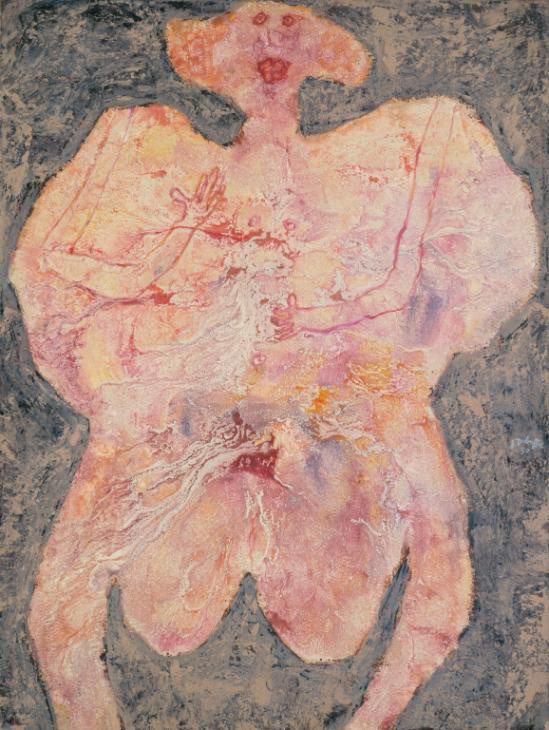 Willem de Kooning
De Kooning is a type of painting known as abstract expressionism or action painting and was part of a group of artists later known as the New York School. De Kooning was known as abstract expressionism or action painting and was part of a group of artists then known as the New York School.  In the late 1950s, de Kooning's work shifted from the creation of female images and began to show interest in more abstract and less representative images. In his seemingly crazy pictures, I can feel another extreme rationality or emotional explosion.
Roger Kemp
 Kemp's concerns were 'to make visible the invisible'.A few months ago, when I visited the NGV Museum, I learned about his work.  In the huge exhibition hall, his works are like church windows, contemplating and being judged.
His interest was not in the overriding traditions of figurative and landscape art, nor the prevailing trends in non-objective art, but rather something much deeper and more metaphysical.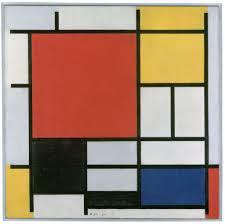 Piet Mondrian

He proclaimed in 1914: "Art is higher than reality and has no direct relation to reality. To approach the spiritual in art, one will make as little use as possible of reality, because reality is opposed to the spiritual. We find ourselves in the presence of an abstract art. Art should be above reality, otherwise it would have no value for man."

Artists need to have a foreseeability of the future of art.  Or how to escape from the art trend at the time. It is undeniable that artists also need to absorb some necessary nutrients from the art  at that time.

grid
Krauss, R, 1979, 'Grids', 
Krauss wrote this article in the 1980s to explore the idea of Grid. She claims that the role of Grid is to declare the modernity of modern art, both spatially and temporally. She traces the history of the Grid from maps or under-painting to abstraction, and what the Grid does about the universal rather than physics marks breakthroughs in the Enlightenment, such as the forms used in Agnes Martin and Rein Hardt. Through the "discovery" grid, cube, de Stijl, Mondrian, Malevich. They landed in the present, while everything else was declared a thing of the past.
On the other hand, she believes that the mythical power of Grid is that it makes us realize that we are dealing with materialism, such as the works of art by Agnes Martin and Rein Hardt. The window in the symbolism book is another form of expression, because it has transparency and opacity, and it is also related to light and color. Therefore artwork can imply or even reconstruct the passing of existing forms. My understanding of the history of grids also inspired my artistic practice of today's grid themes.
[Krauss, R, 1979, 'Grids', October, vol. 9, pp. 50-64.]